Flood Insurance Rate Maps
Flood Insurance Rate Map InvitationFederal Emergency Management Agency (FEMA) Preliminary Flood Insurance Rate maps
If you were unable to attend the August 16th open house hosted by the Federal Emergency Management Agency (FEMA) and the State Contracting Team to view the preliminary Flood Insurance Rate Map (FIRM) for Burleigh County, we've provided the information below: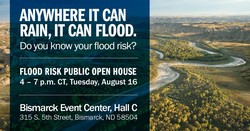 Learn Your Risk
Find your maps: visit the FEMA Map Service Center: https://msc.fema.gov/portal/home
Look up your address and the corresponding flood zone:
Zones AE, A, and AE with Floodway are high risk. Flood insurance is mandatory.
Zone X is moderate risk. Flood insurance is recommended but not mandatory.
Unshaded properties are low risk; however, low risk does not mean no risk! A Preferred Risk Policy may be right for you.
Questions? Visit floodsmart.gov to learn more, or talk to your insurance agent to see how you can prepare against flooding.
Contact Us
Burleigh County Emergency Management
4200 Coleman St
Bismarck, ND 58503
Phone: (701) 222-6727
E-mail