Request an absentee ballot
1.  Click here to get your application.
2.  Print, sign, and mail or deliver the application to the Auditor's Office.
3.  Receive, vote, and return the ballot.

Mail or deliver application:
Burleigh County Auditor
221 N 5th St
Bismarck, ND 58501
You can also send the application via email to burleighauditor@nd.gov or fax it to 701-222-7528.
Upon receiving the completed application, we will send a ballot.

Leave enough time for our office to receive the application, send you a ballot, and for us to receive it by the deadline.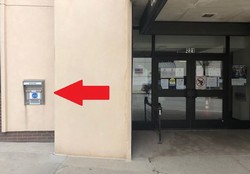 Ballots must be postmarked by Monday, November 7, 2022 or returned to the County Auditor's Office via secure dropbox by 5:00pm on Monday, November 7, 2022. The secure dropbox is located at 221 North 5th Street, Bismarck, ND.
Track the status of your ballot here.

For a blank application or application with agent authorization, please click the links below.
Absentee Ballot Application 

Absentee Ballot - Agent Authorization 
Are you a North Dakota uniformed service member or family member stationed away from home?
Click here for more information.
Are you a North Dakota resident living outside the United States?
Click here for more information.
Voter ID Requirements
Click Here for valid forms of identification.