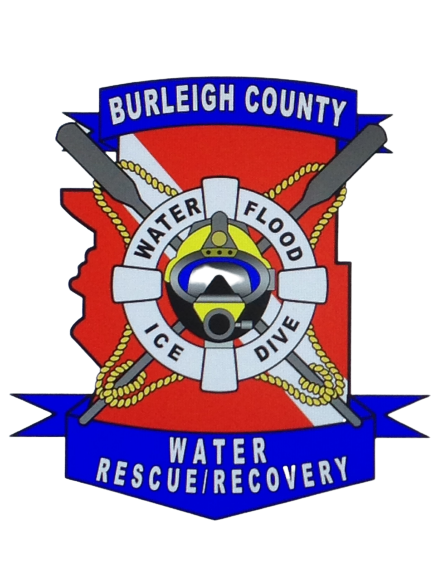 The Burleigh County Dive Team originated in 1980 after a plane crash in the Missouri River showed there was a need for trained divers to respond to emergency, water-related calls.  The Burleigh County Sheriff's Department started the dive team with four divers and an old military ambulance to transport and store basic SCUBA equipment.  In July 2014, the team combined with the Bismarck Rural Fire Department to create the current team. The Burleigh County Water Rescue Recovery Team is a Regional Response Team comprised of members from the Burleigh County Sheriff's Department and the Bismarck Rural Fire Department. 
The current team is made up of (5) different components:
Dive Team (14) members
ROV Team (13) members
Airboat Team (8) members
Ice Rescue Team (14) members
Swiftwater Rescue Team (14) members
Several members are on multiple teams. 
Through the years, the team has acquired top-of-the-line equipment to include dive suits/tanks/masks, boats, trailers, vehicles, remote operated vehicles, side-scan sonars, airboat, and drones.  Each team has a Team Leader and an Assistant Team Leader who coordinate all responses, training, and community events that we participate in and work closely with Team Commanders.
The team is tasked with all water-related emergency and non-emergency calls within Burleigh County to include the Missouri River.  However, when requested by other jurisdictions, the team does not hesitate to assist and has responded to numerous North Dakota cities and counties outside of Burleigh County as well as other states to include Montana and South Dakota.  The team typically deploys for water-related emergencies, mostly to assist with drowning victims, but has also assisted with body recoveries, crime scene processing, and evidence discovery.    
The Burleigh County Water Rescue Recovery Team's Command:
Contact Us
Burleigh County Sheriff's Dept
514 E Thayer Ave
Bismarck, ND 58501
Phone: (701) 222-6651