Burleigh County Sheriff's Department Mileage Chart ($.56/mile)

 

Arena

$65.00

 

Baldwin

$28.50

 

Bismarck

$15.00

 

Driscoll

$36.50

 

Mckenzie

$17.00

 

Menoken

$15.00

 

Moffit

$39.00

 

Regan

$39.00

 

Sterling

$28.00

 

Wilton

$28.00

 

Wing

$56.00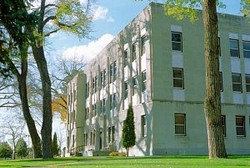 Civil Fees Effective August 02, 2021

1. Service of Summons, Civil Subpoena, Order of Repletion, any Notice of Court Order, Injunctional Order, Citations, Small Claims, Evictions, Notice of Hearing or other Mesne Process to one person $30.00 plus mileage (see mileage chart).
One original and one copy (or two copies) of the paperwork to be served is required.
2. Service of Levy and Execution, including Special Execution, to one person $80.00 and Subsequent service of same is an additional $30.00 plus mileage (see mileage chart). Commission of $75 + 2% of total collected.
3. Execution Sale (foreclosure) - When the plaintiff is the winning bidder, fees are as follows: $50 service of the Writ of Execution; $30 service of Notice of Sale; $75 County Commission; $75 Allowance to Sheriff on an Execution Sale for a total of $230.

4. Successful third-party bids on a foreclosure sale requires payment in full within two hours in the form of cashier's checks (amount to the plaintiff, sheriff's fees, overage to the court).
Contact Us
Burleigh County Sheriff's Dept
514 E Thayer Ave
Bismarck, ND 58501
Phone: (701) 222-6651