StormReady prepares communities with a plan that responds to weather hazards.
Local National Weather Service forecast offices work with communities to complete an application and review process. Some items that a community must do to become officially StormReady:
Establish a 24-hour warning point and emergency operations center;
Have more than one way to receive weather forecasts and warnings and be able to alert the public;
Promote the importance of public readiness through community seminars;
Develop a weather plan which includes training severe weather spotters

Burleigh County received StormReady designation in 2004.

Additional information regarding StormReady can be found on the National Weather Service website: StormReady
Burleigh County is a NOAA Weather-Ready Nation Ambassador.

The Weather-Ready Nation Ambassador initiative is an effort to formally recognize NOAA partners who are improving the nation's readiness against extreme weather, water, and climate events. As a Weather-Ready Nation Ambassador, Burleigh County is committed to work with NOAA and other Ambassadors to strengthen national resilience against extreme weather.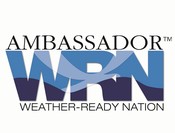 Additional information regarding Weather-Ready Nation can be found on the National Weather Service website: Weather-Ready Nation
Contact Us
Burleigh County Emergency Management
4200 Coleman St
Bismarck, ND 58503
Phone: (701) 222-6727
E-mail