This Special Incidents Unit is a multiple agency tactical police unit trained and equipped to safely resolve those high risk situations that are beyond the scope of those which can be safely handled by the standard police response. These situations include barricaded subjects, hostage situations, VIP protection, and the execution of high risk search warrants. The priority for the Unit in all situations is to successfully accomplish its mission and resolve the incident with no injury to citizens or our officers.
The Unit is comprised of members who all have other primary assignments with the department and serve on the Unit on an "on-call" basis. Officers volunteer for service on the Unit and must pass a selection process prior to assignment if openings occur. Unit members are then required to maintain an above average level of firearms proficiency and physical fitness, as well as demonstrate safe tactical skills to remain on the Unit.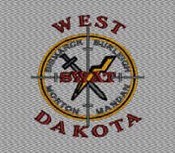 The Unit trains 12 hours per month, except for June - August, due to scheduling problems encountered in the summer. The training is focused on improving firearms skills, building entry skills, and other specialized tactical skills related to special requirements placed upon Unit members.
The Unit has a variety of specialized weapons and equipment. This includes special protective equipment to minimize risk of injury to individual officers. The Department is continually acquiring additional equipment to allow the Unit to perform its functions at minimal risk to the public and its officers. The Unit has taken advantage of a program where qualified law enforcement agencies can obtain surplus military equipment at no cost and has also obtained a four wheel drive vehicle, gas masks, binoculars, clothing, and miscellaneous equipment through this program. Also during 1997 received an armored vehicle as a donation from Bis-Man Security for use in special situations.
The Unit members take great pride in their level of preparation and readiness as well as the fact that they are called upon by other departments to assist in the establishment or training of their tactical units. They are looking forward to challenges that may be presented to them in the future.
Contact Us
Burleigh County Sheriff's Dept
514 E Thayer Ave
Bismarck, ND 58501
Phone: (701) 222-6651