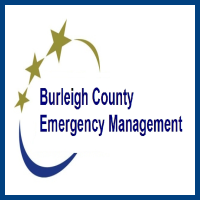 Contact Information
Mary H. Senger, Director
Burleigh County Emergency Management
E-mail
Phone: (701) 222-6727
Address:
4200 Coleman St
Bismarck, ND 58503

Mission
"It is the mission of Burleigh County Emergency Management to ensure efficient and professional emergency management service for the citizens of Burleigh County."
Emergency Operations Plan
The role of the Emergency Manager includes the coordination of services to provide adequate response to any disaster or potential disaster in Burleigh County. To do this, the Emergency Manager is required to coordinate activities necessary to mitigate, plan for, respond to, and recover from any emergency or disaster that may occur in the County. This is accomplished through an "all hazards" approach. Appraisal of the Burleigh County Emergency Operations Plans (EOP) is accomplished by a series of exercises. The exercise cycle starts with a Tabletop Exercise which leads into a Functional Exercise and is culminated with a Full-Scale Exercise.

National Terrorism Advisory System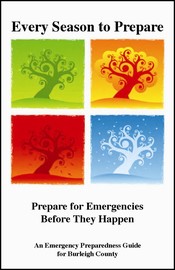 Emergency Preparedness Guide
"Every Season to Prepare"

An emergency preparedness guide entitled "Every Season to Prepare," has been developed for residents of Burleigh County. The booklet is funded by the Burleigh County Local Emergency Planning Committee and provides residents with emergency preparedness information, including information that is specific to the area such as the warning and notification systems.

"Every Season to Prepare" is a reminder that emergency preparedness is a process that requires year-round attention. Burleigh County Emergency Manager Mary Senger encourages all citizens to enhance their level of emergency preparedness for themselves and their families: Get a Kit, Make a Plan, Be Informed, and Get Involved.
Hard copies are available at various locations, including:
City/County Building
Bismarck Public Library
Bismarck Police Department
Bismarck/Burleigh Public Health
Burleigh County Sheriff's Department
Lincoln City Hall
Wilton City Hall
Contact Us
Burleigh County Emergency Management
4200 Coleman St
Bismarck, ND 58503
Phone: (701) 222-6727
E-mail