Garrison Dam Release Schedule
Corps Regulation Forecast available here.

29,000 cfs 10-04-18
31,000 cfs 09-19-18
34,000 cfs 09-17-18
37,000 cfs 09-13-18
38,000 cfs 09-12-18
40,000 cfs 09-10-18
43,000 cfs 09-06-18
46,000 cfs 08-16-18
46,700 cfs 08-08-18
48,000 cfs 08-07-18
50,000 cfs 08-03-18
50,700 cfs 08-02-18
52,000 cfs 08-01-18
54,000 cfs 07-27-18
56,000 cfs 07-26-18
57,000 cfs 07-23-18
60,000 cfs 06-23-18
58,000 cfs 06-22-18
55,000 cfs 06-21-18
52,000 cfs 06-20-18
50,000 cfs 06-19-18
47,000 cfs 06-18-18


Historic Crests:
19.25 ft on 07/01/2011 Garrison Dam Spillway Opened
16.11 ft on 03/24/2009 Ice Jam Flooding
12.08 ft on 01/23/2012
10.72 ft on 01/12/2010
---
Idle Only Restriction in Effect on Burleigh and Morton County Shorelines (Rescinded 09-17-18)

06-26-18: The ND Game and Fish Department has implemented an "Idle Only Restriction" effective within 200' of the shoreline at the request of Burleigh and Morton County Officials to help reduce the impact of soil erosion. Burleigh and Morton County have each declared a "Soil Erosion Emergency" due to severe damages to public and private erosion from the Missouri River current, coupled with high winds, as well as vessels causing wakes.

SAFETY ISSUES: Due to the increased discharges, the Missouri River current is faster and stronger and bringing large debris (including whole trees) down the system-take necessary precautions (life jackets, debris spotters) and maintain awareness of current conditions while recreating on the Missouri River.

The current Missouri River gage reading at Bismarck is 13.2'. Burleigh and Morton Counties continue to have resources committed to the response actions within their respective Flood Plan.
"Idle Only": Defined as operating a boat or other watercraft at the slowest possible speed necessary to maintain steerage


Restriction Location: The power lines approximately 1,000 feet south of Steckel (Wilton) boat ramp, about 23 river miles north of Bismarck. The southern boundary is MacLean Bottoms Wildlife Management Area boat ramp, about 19 miles south of Bismarck.

On the Heart River, starts at the confluence of the Heart and Missouri south of Mandan, and extends upstream to the ND Highway 6 bridge.


Violation: Non-criminal with a $200 fee.


Duration: Restriction will be removed when the Missouri River gage at Bismarck is 10.5'.
---
Burleigh County Providing Larvicide Briquets

Burleigh County is selling larvicide briquets to help residents deal with mosquito issues due to stagnant water on their property. One briquet treats 100 square feet of shallow water, with no current, and lasts up to 150 days-the entire mosquito season!
Residents can purchase the briquets for $3 each at the following location:

Burleigh County Extension Office
3715 East Bismarck Expressway
Monday - Friday, 8:00 am - 5:00 pm
An instructional sheet will be provided which details the ingredients, direction for use, and how to apply. No applicator's license is required to purchase the briquets, and the only personal protective equipment needed is rubber gloves.

Click here to view the product label.
---
Closures due to high Missouri River elevation

Streets
South Washington Street (South of Sibley Park entrance)
South 12th St (road into Apple Creek Wildlife Management Area)

Other
Apple Creek Wildlife Management Area
T-dock at Kniefel Boat Landing has been removed.
---
Missouri River Basin Weekly Update

Current Water Resources Information (Fort Peck, Garrison, Oahe, Big Bend, Fort Randall, Gavins Point)

Missouri River Basin Forecast Information

News Releases (Omaha District)

News Releases (Northwestern Division)
---
Flood Inundation Mapping
The Missouri River Flood Inundation Maps were prepared by Houston Engineering, Inc. for the Burleigh County Water Resource District.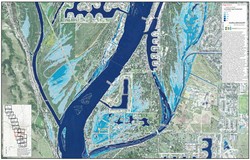 9 ft Missouri River Flood Inundation

10 ft Missouri River Flood Inundation

11 ft Missouri River Flood Inundation
12 ft Missouri River Flood Inundation 
13 ft Missouri River Flood Inundation

14 ft Missouri River Flood Inundation

15 ft Missouri River Flood Inundation

16 ft Missouri River Flood Inundation

17 ft Missouri River Flood Inundation

18 ft Missouri River Flood Inundation

19 ft Missouri River Flood Inundation

20 ft Missouri River Flood Inundation
---
ND State Water Commission Ground Inundation Maps

Map Disclaimer: The North Dakota State Water Commission does not guarantee freedom from errors or inaccuracies and disclaims any legal responsibility or liability for interpretations made from the map, or decisions based thereon.

Click here to view Bismarck/Mandan Missouri River Ground Water Maps.
---
USGS WaterAlert
The U.S. Geological Survey WaterAlert service sends e-mail or text messages when certain parameters measured by a USGS data-collection station exceed user-definable thresholds. The development and maintenance of the WaterAlert system is supported by USGS and its data-collection partners, including numerous federal, state, and local agencies.

Real-time data from USGS gages are transmitted via satellite or other telemetry to USGS offices at various intervals; in most cases, once every 1 or 4 hours. Emergency transmissions, such as during floods, may be more frequent. Notifications will be based on the data received at these site-dependent intervals

Sign up here.
---
National Weather Service (Bismarck Office)

 
---
News Releases

July 3, 2018: Tavis Flood Control Structure Operating as Designed

June 27, 2018: Burleigh County Providing Larvacide Briquets

June 26, 2018: Idle Only Restriction in Effect on Burleigh and Morton County Shorelines

June 24, 2018 Burleigh County Operating Tavis Flood Control Structure

June 21, 2018 Burleigh County Sandbag Sites and Response
Contact Us
Burleigh County Emergency Management
4200 Coleman St
Bismarck, ND 58503
Phone: (701) 222-6727
E-mail