The Burleigh County Sheriff's Department Enforcement Division is divided into the Patrol Section and the Investigations Section.
Burleigh County's population in 2021 (estimated) was 98,933, however, a significant trend in recent years has been the increase of the rural housing developments with residents commuting to Bismarck for employment, personal business, recreational and family activity purposes. This trend has impacted the provision of services which the Sheriff's Department provides. The number of calls for service and traffic-related violations has increased accordingly.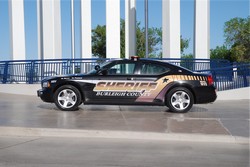 The Patrol Section participates in a number of traffic safety programs in cooperation with the North Dakota Department of Transportation. These programs target the impaired driver and the use of safety equipment in vehicles. The Patrol Section strives to reduce traffic crashes and the related injuries/fatalities through these programs.
The Patrol Section also conducts the preliminary investigations on criminal activity that occurs. Many cases are completed by the patrol deputy. There are situations which may require extensive follow-up investigation and, in those cases, the Investigations Section will adopt the case and continue the follow-up.
The Patrol Section continues to enforce North Dakota's criminal and traffic laws and provide aid and assistance to the public twenty-four hours a day, three hundred sixty-five days a year.
The Patrol Section has 1,652 square miles to Patrol in Burleigh County. There are 1,681 miles of Federal, State, County and Township roads to cover in Burleigh County. This is no easy task, however, with the cooperation of citizens, good things result.
Contact Us
Burleigh County Sheriff's Dept
514 E Thayer Ave
Bismarck, ND 58501
Phone: (701) 222-6651